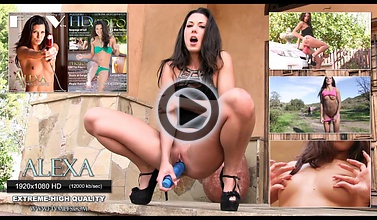 Click Here to see the FULL Videos of Alexa!
Stunning exotic Spanish MILF Alexa has flown in to do her first FTV shoot and wow, this woman is gorgeous from head to toe.
We first see her outdoors, stripping out of her blue lingerie in front of the house before changing into a bikini and going for a quick dip in the water…it was very chilly so she didn't stay in long but it did make her nipples incredibly hard and perky!
She relaxed on a deck chair, peeling out of her bikini to play with her privates, penetrating herself vaginally and then anally with her fingers and giggling…this exotic beauty was amazingly enthusiastic and fun and very natural, despite a language barrier due to her speaking very little English and me speaking very little Spanish. What could have been a stumbling block turned into a cute (and very sexy) quirk with her accent as she spoke about herself and about how she was enjoying the shoot.
Going inside the house Alexa was left alone with the VibraKing and was quick to bring herself to a strong, natural orgasm! We are also able to enjoy her dancing as she put on some music she enjoyed and danced in the nude, unashamed and not at all self-conscious in front of the camera…enjoy watching that beautiful toned fit body of hers!
We also had a suction cup toy and Alexa thought it would be fun to stick it to a car hood and play with it, so she simulated oral sex showing her skills and sensuality before going for a hard deep ride on it…talk about a hood ornament!
Later on we went for a hike where Alexa had fun getting a little daring, flashing her perky breasts and pert butt when she felt like she could get away with it and doing a little jogging as well. Have fun watching this beautiful, exotic and very personable MILF — she'll have you reaching for your old Spanish homework to brush up a little, just in case 🙂