Beautiful blonde Charley is quite new to the industry…we're introduced to her in the dining room area where she gives a little tour of her panties, bending over and letting them peek out before she lifts up her green dress to show off those legs!
She has a definite cheerleader look to her, and we see her unveiling her big 34D breasts to show off for us…she's a shy woman and we see that come out when she slips out of her panties, but she's down to give things a try! We see her up on the kitchen counter with her legs spread wide open, rubbing herself with her fingertips – we note her clitoris swelling from the stimulation – then she tries a magic wand type vibrator.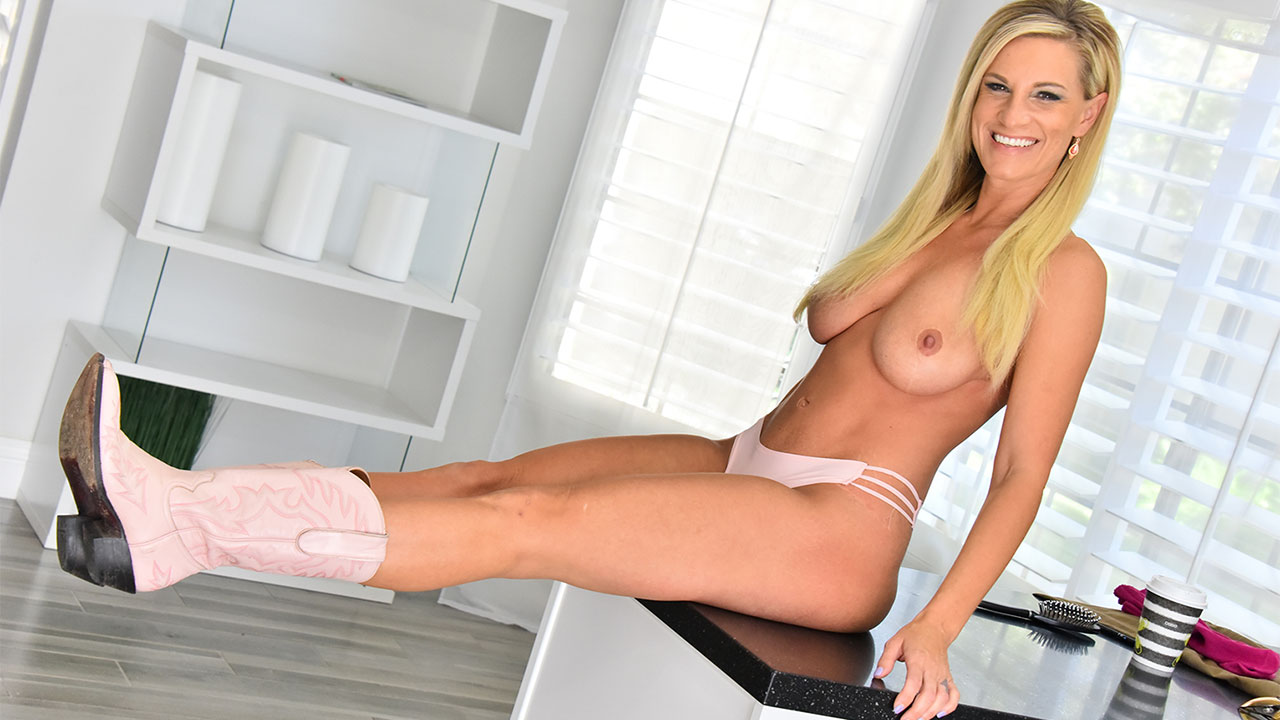 Being fairly new to using toys it takes her a little bit to adjust to the sensation, but once she does she fully enjoys the toy, coming to her first climax of the day…and she just keeps the toy on herself afterwards too! Next is a textured glass toy for penetration play, followed by a larger black dildo which the photographer uses as she buzzes her clit with a vibrating toy at the same time for another orgasm, this time with her natural juices flowing afterwards.
Next we see her in sheer black thong panties and a bra, admiring her full-length reflection in the mirror and adjusting her hair…on the couch she takes her breasts out and attempts to lick her nipple, a first experience for her 🙂
Next she pushes her limits a bit, seeing how many fingers she can fit inside…she goes up to three fingers but prefers going back down to two for comfort with her tight vagina. In her final scene of the day we see her meeting the ultimate in vibration, the powerful Vibraking toy! Charley is a newcomer to the industry who is on the shy and nervous side, but she doesn't let that stop her from exploring and playing and sharing her new experiences here on FTV MILFs 🙂